Bellows, expansion joints and metal hoses from the BOA Group offer high reliability and safety to petrochemical applications.
BOA bellows, expansion joint and flexible hoses offer reliable, safe and economical solutions to problems that are associated with the thermal expansion and vibration of piping systems and vessels. BOA products are designed to protect critical plant equipment from excessive forces and movements.
Our products meet the stringent operating requirements of UOP, AXENS, Shell Global Solutions, BP and other licensors. Key applications include piping connections for reactors, regenerators, cyclones, turbines and many others for FCCU (Fluidized Catalytic Cracking Unit) plants, ethylene plants, styrene plants, polyethylene plants, LNG or similar plants where high temperatures and pressures - often combined with aggressive media - require high equipment reliability.
Our customer base includes refinery owners/operators such as BP, Exxon Mobil, Shell, Total, OMV, FPCC, Agip as well as numerous, reputable engineering and construction contractors located all over the world.
The BOA product portfolio of bellows, expansion joints and flexible hoses is adapted for each individual application:
- Isolate pump vibration
- Absorb thermal growth for process piping
- Absorb thermal growth and minimize stresses on equipment used in FCCU (Fluidized Catalytic Cracking Unit), HDPE (High Density Polyethylene) and SM (Styrene Monomer) Plants and others
- Stress reduction for loading systems, weigh scales, purge and instrument connections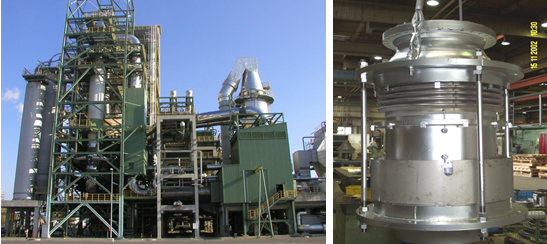 Please contact Mr. Xie for business 86 13818451931.