BOA with its flexible solutions can be used in the automotive industry fields, such as engine management systems, exhaust system, air conditioning cooling system and so on.Along with the establishment of the local engineering center, with our excellent customer service team as well as mature production management team, we can provide customers with unique solutions to support the development of the customer.

With BOA components manufacturers meet continuously stricter emission requirements.
Modern automotive manufacturing requires exhaust systems with gastight flexible connecting elements, which provide high life endurance and corrosion resistance as well as a maximum of vibration decoupling performance in order to increase the vehicle comfort.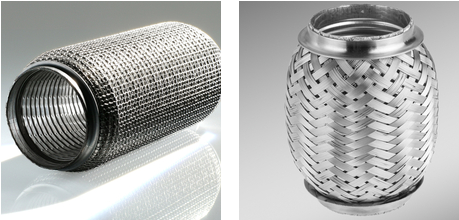 Product applications:
• Highly Flexible Metal Hoses
For acceptance of large axial, angular and lateral motion as well as for decoupling of engine vibration and high acoustic comfort.
• Self-supporting Decoupling Joint
A robust and cost effective alternative for acceptance of angular motion while offering good decoupling performance of engine vibration.
• Thermal Compensators
For compensation of stresses caused by varying thermal expansion rates
• High Frequency Damper "HFD"
For damping high frequency vibration after the turbo-charger
As being one of the market leaders in the field of exhaust system decoupling, we have gained experience over many years and may offer state of the art measurement equipment as well as engineering tools to develop and produce solutions tailored for the automotive industry.
BOA thin walled stainless steel flexible tubes compensate vibrations, assembly tolerances, and thermal elongations, improve connecting tightness and reduce connection stresses.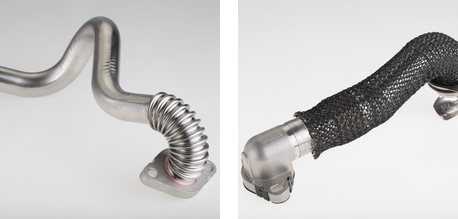 BOA tubes are used in the following engine applications:
• Exhaust Gas Recirculation (EGR) tubes.
• Turbocharger oil drain pipes
• Air Injection Reaction (AIR) tubes.
Using its large diversity of production means, the BOA Group provides high engineered solutions based on customer requirements and packaging. The BOA Group is going ahead with the integration of additional function like thermal insulation and sealing of connection for example.
Fuel Systems & Side Components
The BOA Group offers components and modules for automotive applications such as
• fuel injection
• high pressure pumps
• Actuators
• air conditioning
• active vehicle protection systems
• connecting and decoupling of construction components such as turbocharger, diesel particulate filter, etc.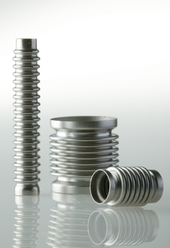 Flexible and semi-flexible metal hoses, corrugated bellows, bellows and welded pipe assemblies are used more and more in the automotive world.
BOA products are used depending on the application for the transport of liquids or gases, in air cooling systems, as sealing elements, to compensate volume and length, for heating and safety systems. The BOA products will be integrated as parts into complex and functional components and assemblies.
BOA products are individually designed for our customers and economical produced with advanced manufacturing technology.
Product applications:
• precision mini bellows for fuel injection and high pressure pumps
• capsules for high pressure pump
• fuel and air condition hoses
• bellows for blow off valves
• welded tube constructions for heating systems
• bellow assemblies for pedestrian protection
Typical fluids to handle:
fuel, diesel, oil, ethanol, water, liquefied/gaseous CO2, explosives, exhaust gas
Please contact Mr. Xie for business 86 13818451931.